How to production solid wood bathroom vanities ?
Many times we have customer ask us how to production solid wood bathroom vanties ?
Recently we take some photos to show how to production solid wood bathroom vanities ?
Through these photos.
Your will know more why luxdream bathroom vanity is high quality and different from other supplier?
1):Prepare Material:
The material is very important for bathroom vanities quality.
Luxdream vanities used eco friendly and zero-emissions solid oak wood legs with plywood carcass.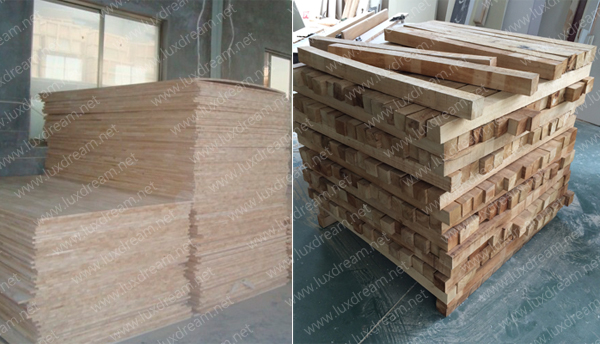 2): Prepare assemble vanities:
Luxdream bathroom vanities style include modern bathroom vanities,
Traditional bathroom vanities,wall mounted bathroom vanities and floor standing vanities.
This process is handcrafted.
Our craftsman will as different style to assesmble different vanities.
These craftsman technology is skilled and have rich experience.
Especially north american style wooden bathroom vanity.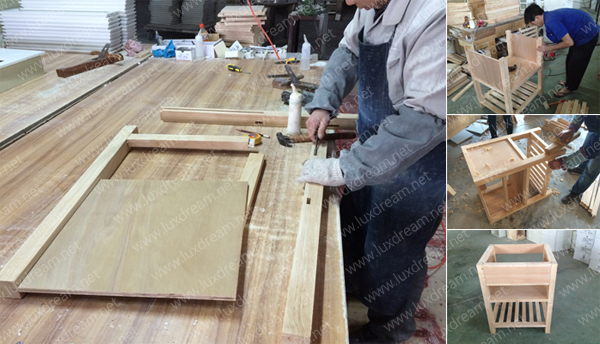 3):Prepare Painting finishes
Bathroom vanities have many kinds color finishes…
Espresso,white,cherry, ice gray, wooden stain and so on…
Generally speaking white and espresso color is popular.
But recently ice gray color is new trend…all these process is hand-finished.
A):
You know nature wood have the wood grain.
Before the painting, our craftsman need to puttying every cabinet and each corner.
When the putty dry. They begin to polish.These process will repeat at least 5 times.
Because smooth surface very important.
If these process make better.The cabinet will easy to painting.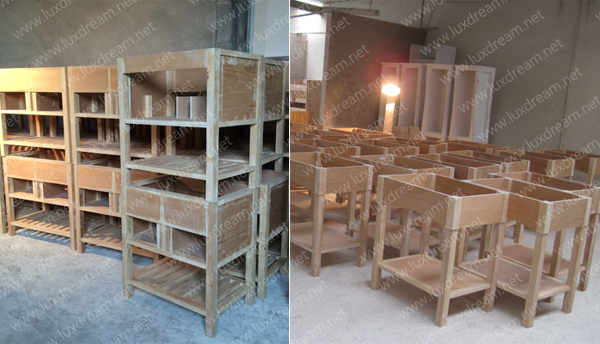 B):
Painting is key step in the process of bathroom vanity production.
How to make gloss white? How to make matt white?
Painting is very important.Our factory always painting at least 6 times.
This step need more times to finish it as to make sure all vanities finishes is high quality.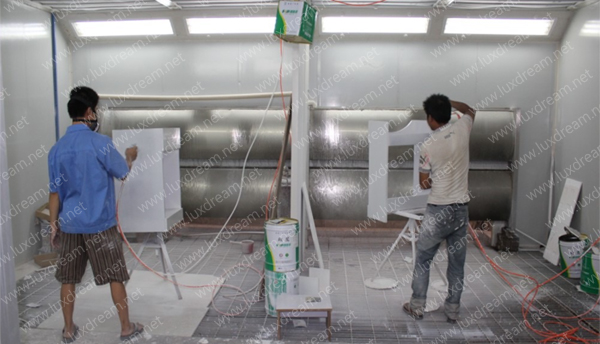 4):Surprise finished bathroom vanities photos show:
Below is our finished complete bathroom vanity pictures. white and ice gray color.
Double sinks bathroom vanites and single sink vanities.
If you need other color and size. We can as you request customized it.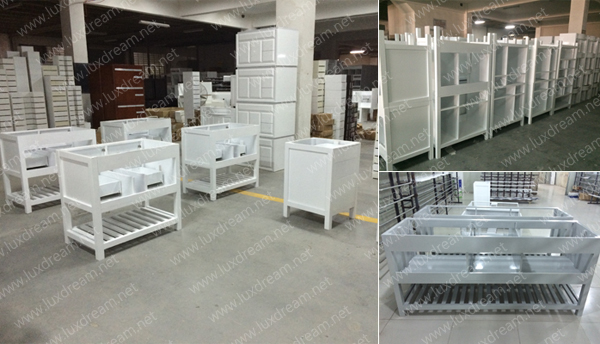 5):Bathroom vanity quality control before packing & Shipping
In order to guarantee the quality of the bathroom vanity.
Our factory has a complete quality inspection system.
Every part need to be check and test before packing and shipping.

6):Bathroom vanities packing:
Packing way also very important for our customer.
Strong & nice packing protect our vanites when shipping.
Meanwhite better packing way will help our customer sell better in local market.
A): How luxdream vanities packing ?
Bubble bags for all vanities to avoid scratch.
At least 20~30mm Foam in carton inside.
5~8mm thickiness MDF board on top carton.
Double corrugated carton packing for vanities
Noted: We can print you logo on carton if you need.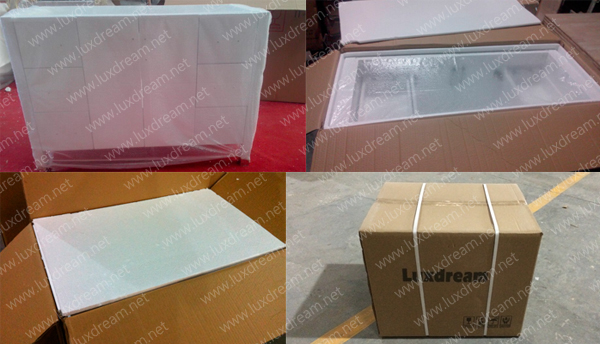 B):How to packing vanites marble countertop & Sink & backsplash ?
Our bathroom vanities have matched marble countertop & undermount sink.
As to these marble countertop and sink so heavy and easy broken.
So we need to make strong packing for these part.
Bubble bags for all vanities marble countertop & undermount sink & backsplash.
Thicker foam inside to fill in double corrugated carton inside.
The carton outer will used plywood crate to protect all tops.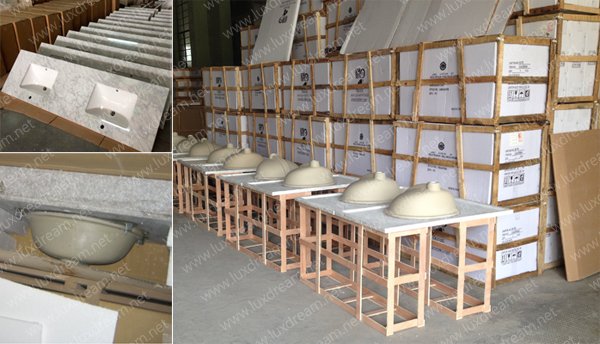 C):How to packing bathroom vanities mirror ?
As to mirror is easy broken part for complete bathroom vanities.
So we used strong packing for these matched wooden frame mirror.
Bubble bags for vanities mirror to avoid scratch.
Soft plastic corner protection for each mirror corner.
Double corrugated carton packing for all wooden frame mirror.
Noted:
We can as you request print your logo or vanities drawing on carton.
Our designer will give you free drawing as your design.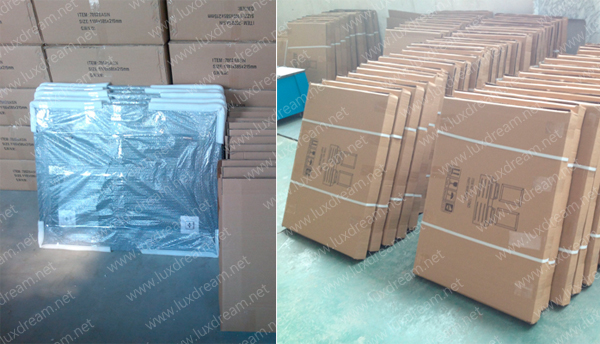 If you want to know more luxdream vanities information. please feel free contact us.