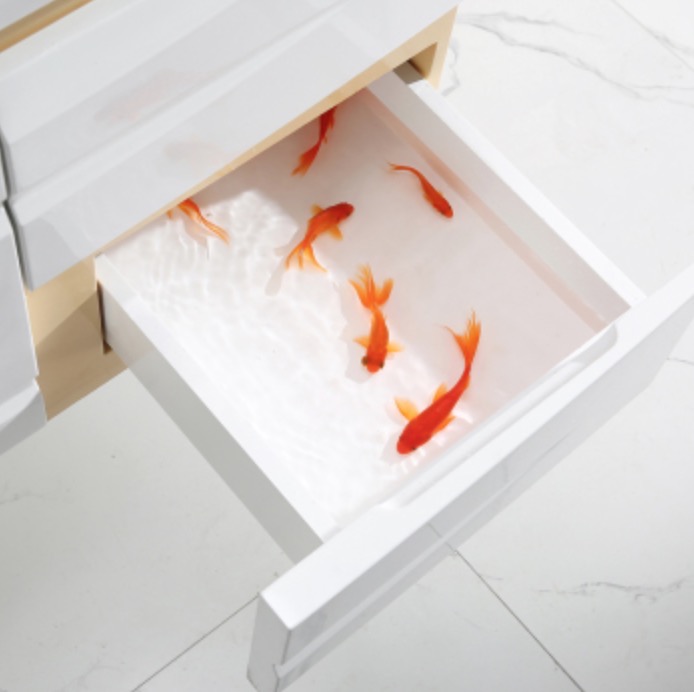 Does your cabinet could breed fish?
Vanity cabinets come in all sizes, shapes, and design styles. We are leaders in crafting elegant cabinets that are exceptionally handcrafted to be completely waterproof and spacious enough you can breed fish in our cabinet drawers.
Bathroom vanities are often exposed dampness owing to their usage environment and it's quite difficult to protect them from water and keep them dry all the time. It would be a headache to avoid splashing water on cabinets especially when they are used in small bathroom spaces, or near showers.
Exposing a wooden bathroom vanity to dampness causes the wood to rot and the door hinges to rust rendering it unusable after sometime. They also loose the beauty and are no longer appealing as they are supposed to be.
Our vanity cabinets
As the largest vanity manufacturer in china, Luxdream crafts bathroom cabinets that no longer need protection from water contact. Our cabinets are guaranteed to withstand any amount of exposure to moisture while retaining their original feel and beauty.
Luxdream vanity manufacturers is a top producer of unequivocal water resistant cabinets that are bound to last for ages and you no longer have to worry about getting them wet.
Developing superior waterproof fish breeding cabinets
It looks too real to believe but our beautifully handcrafted plywood cabinets are so watertight and made out of completely eco-friendly materials we rear fish in the drawers to demonstrate the efficiency with which we design and produce them.
The secret is in our precise and careful selection of the best materials and finishing for our cabinets.
Environmental friendly materials
Our cabinets are assembled out plywood and solid oak for the cabinet legs.
Plywood is strong and has and offers quality cabinet construction longevity, due to its amazing shearing and tensile properties. Our high quality plywood vanities thus generally weighs light while retaining their ability to bear massive weights while remaining stable throughout their use.
Breeding fish in cabinet drawers
So, how eco-friendly is our finishing material?
Our choice of finishing material is in line with our goal of producing and delivering products that are harmless to the environment. We use lacquer as our chosen finishing for our vanities partly due to its attractive appeal on finished products that is evident in our cabinets, its durability and eco-friendly nature.
Fish need a clean and natural chemical free environment to thrive.
Our Lacquer finish is made entirely out of naturally occurring organic compounds (VOC'S) that are clean and pose no threat to the environment.
Using non-synthetic finish on our cabinets provides a conducive environment that helps us rear healthy fish in our cabinet drawers.
Our goal is to deliver high quality vanities made entirely out of materials that are friendly to the environment.
Water resistant paint and finishing
Once the cabinet plywood is selected and undergone thorough standard quality checks, our professional craftsmen work on the best painting and finishing style for uniqueness and exquisiteness while making them 100% waterproof.
After adequate painting preparation, the cabinet and drawer plywood material is coated with white lacquer finish carefully. White lacquer provides an attractive and easy to clean finishing which best brings out the Asian-inspired ultramodern furnishing look on our cabinets.
White lacquer is extremely durable, resistant to damage and provides the smoothest furnished feel we desire to deliver to our vanity customers.
To make the thickest coats for the best water resistant cabinets, a primer of the same range as the lacquer paint is patiently and evenly applied to the plywood before layers of lacquer paint are applied with careful sanding between the coats.
The end result is a glossy, waterproof and scratch resistant shine on the finished cabinets that bestows a deep tone and rich quality to the cabinet surface.
In line with our focus on leadership in bathroom vanity manufacturing, we strive to make our products look, and feel classy while ensuring that they serve our customers extensively and adhering to the clean environmental policies.